The construction program was completed in 2011.
The structure of the urban landscape provides residence with a series of inter-connected spaces that lead residents on a journey down to the waters edge. A semi-private "seaside outlook" takes advantage of the magnificent view of Brisbane Waters and surrounding foreshore. This coastal location provides opportunities for the retirement community to interact with the tidal zone. A key design element was integrating rising water into this space. Rising sea levels combine with king tides causing the salt water to inundate the space several times a year. The potential destructive forces were mitigated, by integrating salt tolerant plants, gravel mulch and robust structural materials.
Please refer included photos.
Seaside Landing – view looking down from apartments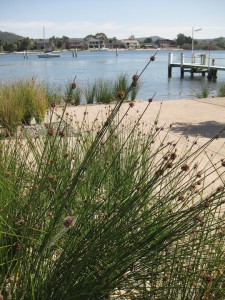 Foreshore Habitat – edge of Bioswale
Urban Landscape  (Soft Engineering) – Overland Stormwater Swale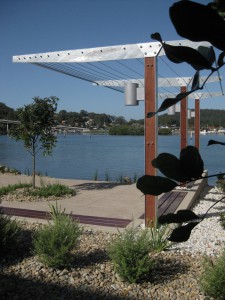 Robust Materials – Pergola Trellis
Integrated Landscape – Overland Stormwater Swale