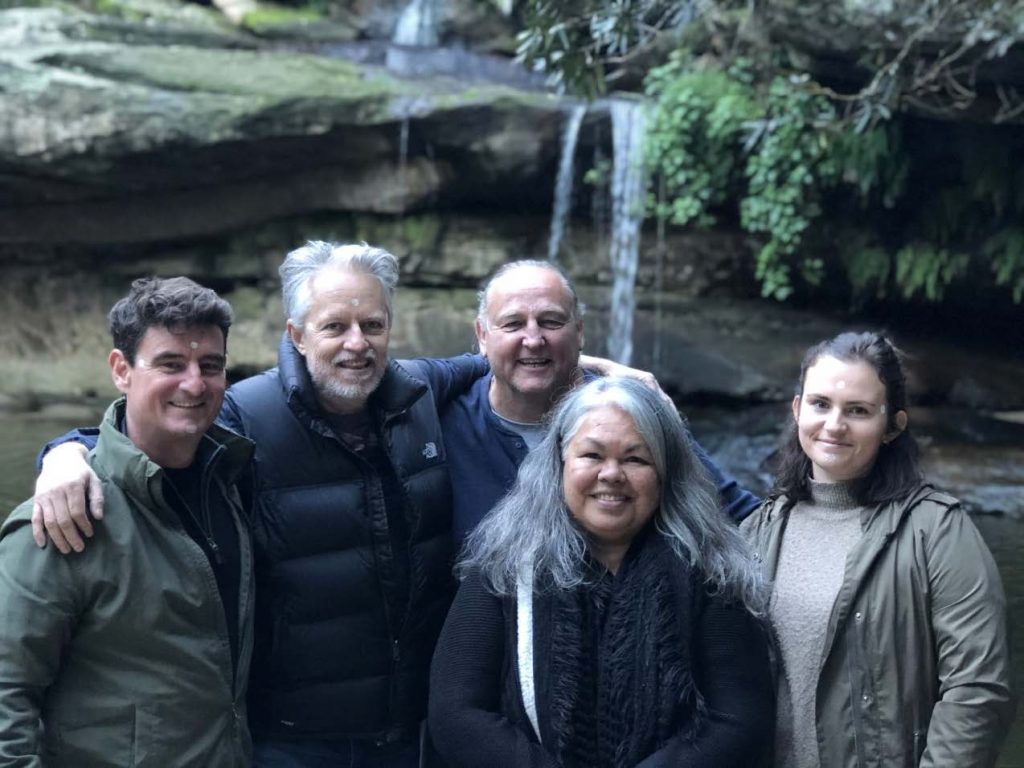 Sym Studio has embarked on partnerships with First Nations Cultural Curators and Designers in leading best practice whilst designing with culture in mind.
Sym Studio has formed new partnerships with First Nations Cultural Curators and Designers including;  The Gaimaragal Group – Susan Moylan-Coombs (Woolwonga, Gurindji Woman), Dennis Foley (Gai-mariagal and Wiradjuri Elder and Fulbright Scholar) and Saltwater Studios – Craig Kerslake (Wiradjuri Nation), all Supply Nation Certified.
Our shared commitment is to create impact and help facilitate opportunities for project value creation.
"Creating a new story of connection for all Australians." 

Susan Moylan-Coombs (Woolwonga, Gurindji Woman),

The Gaimaragal Group
To mark the occasion and launch of the new partnership journey, we met at Irrawong Waterfall where we shared knowledge and discussed connecting with country and cultural design practices.
These partnerships are the platforms that will foster a cultural design process based in the deep knowledge of the local environment, culture and community.
With each project, we partner with Cultural Curators and Designers in facilitating conversations and knowledge sharing. This two-way cultural translation brings individuals, communities and businesses together, allowing us to incorporate these unique stories from the Original people and place into the planning, design and delivery of our projects.
We invite you to learn and develop with us – Designing with and in Country.
We acknowledge and respect all ancestral lands of Australia's First Peoples.

We pay our respects to Elders past, present and future.

We acknowledge our local area, home residences and office location as part of Gai-mariagal clans, which today is known as Northern Sydney.

We appreciate the opportunity to co-create environments and more largely a nation that embrace First Nations Peoples' history, culture and rights, for present and future generations.
Sym.Studio is an established landscape architecture and urban design practice with a profound appreciation for places and its people.
The Gaimaragal Group, Connecting People, Community and Business, www.gaimaragal.com.au
Saltwater Studio Architects